How active is your state?
Feb. 2, 2020—Are you in a state of inactivity?
The Centers for Disease Control and Prevention (CDC) asked people in all 50 states and two U.S. territories about their activity levels in an ongoing telephone survey. Between 2015 and 2018, at least 15% of adults in every state and territory said they were inactive. In seven states and two territories (Puerto Rico and Guam), 30% or more of adults said they were inactive. Inactivity was defined as not participating in any physical activities or exercises, other than your regular job, in the past month.
How did your state rate? Take a look at this map: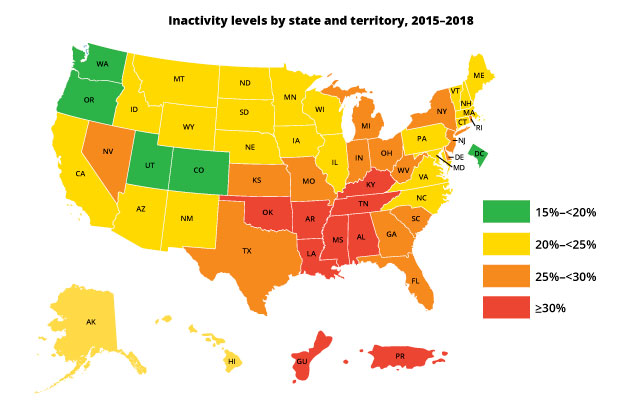 View image description.
According to CDC, only half of adults get the physical activity they need to help reduce and prevent chronic diseases. Besides the health benefits, regular physical activity can help clear your mind, help you sleep better and boost your energy.
Most adults should aim for at least 150 minutes of moderate activity with two days of muscle-strengthening activity each week.
If that sounds daunting, consider this: Just 10 minutes of brisk walking three times a day, five days a week will get you the aerobic exercise you need. And walking is a great way to get started, especially if you've been inactive for a while. Before starting a new exercise program, it's a good idea to talk with your doctor about your goals and the amounts and types of activity that might be right for you.
Here are nine more tips from CDC and the American Heart Association that can help you get started and stay motivated:
1. Seek out sitting swaps. Try to replace some of your sitting activities with moving ones. For example, you might take a walk after dinner instead of watching TV.
2. Make a date. Set aside specific times in your schedule for exercise. Make it part of your daily routine.
3. Find the fun. Start with an activity you enjoy, like gardening or basketball. Ask a friend to join you so you can support each other.
4. Start slowly. Let your body adjust gradually. You can work your way up to longer workouts and more challenging activities over time.
5. Wear what you want. You don't need special clothing to do most activities. Just be sure to choose a pair of comfortable, supportive shoes.
6. Set a goal. Maybe you'd like to jog a 5K—or learn to swim. Working toward something can be motivating. Even better: Share your goal with friends and family and make the journey together.
7. Put the fitness in family time. Choose activities you can do together, like a family bike ride or a game of touch football.
8. Time it right. There's no wrong time to exercise—do what works for you. If you're not a morning person, try getting active later in the day. Or if evenings are busy, try fitting a walk into your lunch break.
9. Warm up, cool down. To help avoid injuries, warm up your muscles with a light activity before exercise. Then walk around or stretch after your workout to cool down.
What are the roadblocks keeping you from regular exercise? Find tips to overcome them here.
Overview
The map shows a percentage range of inactive adults for each of the 50 states and the territories of Guam and Puerto Rico from 2015 to 2018. All states and territories had more than 15% of adults who were physically inactive.
Values
Numerical values presented on the image:
Prevalence of self-reported physical inactivity by state and territory, 2015–2018
Prevalence by state
Alabama: 31.0%.
Alaska: 20.3%.
Arizona: 23.7%.
Arkansas: 32.5%.
California: 20.4%.
Colorado: 17.3%.
Connecticut: 22.7%.
Delaware: 28.4%.
District of Columbia: 19.8%.
Florida: 28.0%.
Georgia: 28.5%.
Hawaii: 21.6%.
Idaho: 21.5%.
Illinois: 24.3%.
Indiana: 28.3%.
Iowa: 24.2%.
Kansas: 25.0%.
Kentucky: 32.2%.
Louisiana: 30.9%.
Maine: 23.2%.
Maryland: 23.9%.
Massachusetts: 23.3%.
Michigan: 25.1%.
Minnesota: 21.2%.
Mississippi: 33.0%.
Missouri: 26.8%.
Montana: 22.5%.
Nebraska: 24.2%.
Nevada: 25.6%.
New Hampshire: 21.8%.
New Jersey: 28.7%.
New Mexico: 22.3%.
New York: 26.6%.
North Carolina: 24.7%.
North Dakota: 24.6%.
Ohio: 27.0%.
Oklahoma: 30.2%.
Oregon: 19.2%.
Pennsylvania: 24.8%.
Rhode Island: 25.9%.
South Carolina: 27.2%.
South Dakota: 22.3%.
Tennessee: 30.0%.
Texas: 27.9%.
Utah: 18.6%.
Vermont: 20.5%.
Virginia: 24.0%.
Washington: 18.3%.
West Virginia: 29.8%.
Wisconsin: 21.4%.
Wyoming: 24.1%.
Guam: 31.0%.
Puerto Rico: 47.7%.
Presentation
States are color-coded to match the categories presented on the side of the map. Green states reported 15% to less than 20% inactive adults. Yellow states reported 20% to less than 25% inactive adults. Orange states reported 25% to less than 30% inactive adults. Red states reported 30% or more inactive adults.